Educator Resources
Find Project WET-trained Facilitators near you to schedule a workshop or for support: Map of Facilitators
Scroll to the bottom of page to find WET activity resources.
Make the most of your Project WET Curriculum & Activity Guide
WETfront11-150.jpg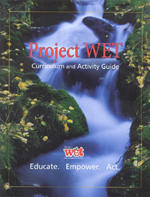 Visit the Project WET Portal for supplemental materials, reading lists, and activity ideas. On your first visit, use the code inside the front cover of your guide to login.
Use Discover Water with tweens for a fun, interactive way to learn about water.
Get WET activity correlations to Georgia Education Standards
Bring River of Words(ROW), an environmental program for K-12 students designed to connect students with their watershed through art and poetry, into your classroom.
Nominate a Water Education Teacher or Organization of the Year! Winners will be recognized at the EEA awards ceremony in March. Nominations for awards are due Feb. 1 of each year.
Environmental Education in Georgia
The Environmental Education Alliance (EEA), our state-wide EE organization, holds an annual conference and an Outdoor Learning Symposium each year, as well as fun events throughout the year.
Find all Environmental Education grants, activities, events, contests and training at EEinGeorgia.
Additional Materials for you from Project WET
1. Water Education Curricula. 
Offer more ways to expand Project WET topics with lessons that are interactive, challenging and fun. Find these and more classroom items at the ProjectWET.org Store.
medium_ece-cover.jpg

Getting Little Feet WET
Our newest publication for ages 3-6. Developed in coordination with early childhood experts and educators, Getting Little Feet Wet is designed to help educators of young children teach about water in fun, age-appropriate ways. This book contains 11 interactive, hands-on activities for young learners to explore different aspects of water—from water properties to water sounds. Each activity offers both Pre-K and K-2 options and is correlated to educational standards.
small_WOW.jpg

WOW! The Wonders of Wetlands
This guide features activities that are organized into five sections: wetlands definitions, wetlands plants and animals, water quality and supply issues, soils, and people. The appendix offers instructions for planning and developing a schoolyard wetland habitat.
small_conservewater.jpg

The Conserve Water Educators Guide
The Conserve Water Educators Guide provides teachers of middle school and high school students with the ins and outs of water conservation. Real-life examples encourage students to use critical thinking skills to examine different sides of each situation.
small_HWHP.jpg

Healthy Water Healthy People
Healthy Water, Healthy People will help educators address science standards through interactive activities that interpret water quality concepts and promote diverse learning styles, with foundations in the scientific method. HWHP Workshops are held in partnership with Adopt-A-Stream training and cover basic water QAQC certification.
Kids Variety Booklets Cover.jpg

Kids in Discovery Series, classroom booklets
These colorful, 16-page activity booklets offer creative and hands-on investigations, demonstrations, science experiments, educational games and stories stimulate understanding of each booklet's topic.
2. The Urban Watershed-Stormwater Edition
Urban Stormwater Cover-150.jpg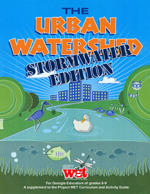 The Urban Watershed Stormwater Educator's Guide for grades 6-9 is a supplement to the Project WET Curriculum & Activity Guide for teachers in urban areas of Georgia. Activities are interdisciplinary and use role play, labs, discussions, the arts, and many other formats to bring the hidden parts of the urban waterways to life.
This guide is only available through a Project WET/Urban Watershed Educator or Facilitator workshop and is FREE of charge. Please contact us for more details.
3. Enviroscape Models
Free checkout for educators, email for details
Non-point source-- Allows learners to see pollution and runoff when rain carries soil, chemicals and oil through the watershed to a pond, lake, river and ocean.
enviroscape_150.jpg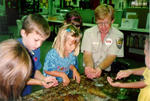 Wetlands-- Allows learners to see wetlands in action including activities that affect wetlands and activities that can help conserve them.
Coastal -- Allows learners to see coastline problems including activities that affect coasts and activities that can help conserve them.
Drinking Water/Waste Water -- Allows learners to see inner workings of a River to River treatment system.
Various models available in these locations: Athens, Northwest Georgia, EPD, Tifton, Statesboro, University of West GA, Atlanta Outdoor Activity Center (OAC),;NEGA RESA
4. River of Words Exhibit
ROWdisplay-150.jpg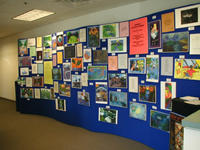 Traveling display of Georgia's current award-winning ROW poetry and art is available for Free checkout to educators. Get on the schedule!
The Georgia Project WET e-newsletter is published bi-annually and features articles of interest to WET Teachers and Facilitators. It includes state-specific background information for WET activities, thematic lesson plans, interviews with water professionals, and a forum for Teachers and Facilitators to share their ideas and accomplishments.
email to request.
More water-related classroom aids for you
The following links and documents will help you implement your Project WET activities and to bring a broader experience of water to your students.
Educator Resources - Related Links

Educator Resources - Related Files