About Georgia Project WET
Project WET is Water Education Today! Our goal is to promote awareness, appreciation, knowledge, and stewardship of water resources through classroom-ready teaching materials and educator workshops.  Our Mission is to bring WATER EDUCATION to the world! We envision a world in which action-oriented education enables every child to understand and value water, ensuring a sustainable future. 
ijkids-150.jpg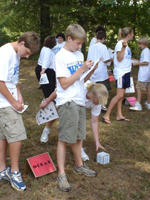 It's a Program--
designed for formal and non-formal educators of K-12 students grounded in defined beliefs reflected in the curriculum and training techniques.
It's a Curriculum--
of interdisciplinary activities developed, field-tested, and reviewed by educators and professionals and correlated to the current Georgia Education Standards.
And it's an Instruction and Delivery Network--
offering Educator Workshops and Facilitator Workshops.
Our Core Beliefs
Water connects us all. 
Water is for all water users. 
We must manage water sustainably. 
We need to take personal responsibility for water resources.
What else can I do with Project WET?
Connect to the PORTAL: access additional activity resources and information using the special code inside your GUIDE.
Connect to DISCOVER WATER:  use this free site with students to give them a fun and exciting way to better understand our water resources.
Connect to NATIONAL PROJECT WET:  visit the store, sign up for an online workshop, see what is happening with our global initiatives.